Hvor mye må man shorte for å komme over sperregrensen i NAS?
Som kjent er det en sperregrense for offentliggjøring av shortposisjoner på 0,5% Ikke uventet er dette basert på  EU-regler og investorer skal rapportere sin netto short posisjon innenfor følgende kriterier:
Answer 2f: The net short position resulting from the calculation to be performed by an investor and expressed in percentage of the issued share capital of a particular issuer should be reported when a relevant notification threshold (e.g. for net short positions in shares: 0.2 %, 0.3 %, 0.4 %, 0.5 %, 0.6 %, etc.) is 10 reached, exceeded or crossed downwards. In such case, the position to report should be rounded to the first two decimal places by truncating the other decimal places. For instance, if the net short position is 0.3199 %, a notification is required and should indicate the 0.31% position. However, for a net short position of o.1987% of the issued share capital, no notification is required.
Investorene rapporterer antall aksjer og en prosent med to desimaler som konsekvent skal rundes nedover. Det er også interessant å merke seg at rapporteringsplikten inntreffer når man når, overstiger eller krysser en hel tidels prosent. Endringer i posisjon innenfor samme tidels prosent er det med andre ord ikke krav om å innrapportere.
Om vi bruker Norwegian Air Shuttle som et eksempel så er det totalt 35 759 639 aksjer i selskapet. Sperregrensen på 0,5 % er dermed 178 798 aksjer, og dersom man shorter mer en dette, så vil posisjonen bli publisert. Det kan da være interessant å merke seg at med en pris per aksje på 225 kroner så må man låne og selge aksjer for 40 millioner før posisjonen offentliggjøres.
Merk også at man ikke trenger å rapportere på nytt får man når opp til 0,6% – eller har en økning i shortposisjonen på 35 759 aksjer. Aktørene har med andre ord et visst «slingringsmonn» i shortposisjonene uten at det må rapporteres, og regner man fortsatt med en snittkurs på 225 kroner per aksje vil man kunne endre på shortinteresse for 7,8 millioner før det må rapporteres (og blir synlig for markedet).
«Prislappen» for å shorte seg inn i SSR registeret for Norwegian Air Shuttle (NAS) vil naturlig nok variere med aksjekursen. I tabellen under vises grensene i millioner kroner for ulike kurser:
| | | |
| --- | --- | --- |
| Aksjekurs | Sperregrense 0,5% | Endringsgrense 0,1% |
| 175 | 31,3 mill | 6,3 mill |
| 200 | 35,8 mill | 7,2 mill |
| 225 | 40,2 mill | 8,0 mill |
| 250 | 44,7 mill | 8,9 mill |
Med andre ord: Alle investorer i shortregistreret for NAS har etter alle solemerker godt over 30 millioner «i spill» hver. Siden sperregrensen er på drøyt 200 000 aksjer betyr en endring av aksjekursen på 5 kroner minst 1 million for en shorter som har rett over 0,5% andel. Se løpende oppdatert historisk oversikt over endring av shortposisjoner siden 01.07  her: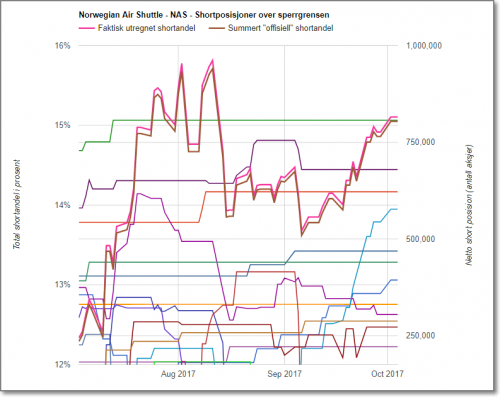 Om du vil se ennå lengre tilbake så kan du også se short-historikk fra 01.01.2017